With the Holidays and everything else that took over the month of December, I decided to put Sunday Sayings on hold until normalcy returned to my life.
That is today,
I found this while browsing through Pinterest a while back and knew instantly that I wanted to share it with all my blogging friends!
Unfortunately, if your anything like me, you will often feel that you just never do enough...
Around the house,
In the kitchen,
for your kids,
for your significant other,
to keep in touch with distant family,
at work,
and even, for yourself.
This pressure we put on ourselves is silly and a complete waste of energy.
At the end of the day, where does the added pressure get us?
No where.
So, even if you do absolutely nothing except watch your favorite TV show all day, let this be enough.
You are human, and you can only do so much.
You are allowed to make mistakes, relish in lazy days and even forget things sometimes.
What you do today, and tomorrow, and the day after that, is enough.

Keep this little phrase in the back of your mind as you embrace a new week.

What you do today is enough.
----------------------------------------------
For those of you interested, I will be resuming this link-up starting next Sunday!
Sunday Sayings is simply a link-up for sharing something inspirational with the rest of your blog buddies. It can be a quote, short saying, or picture.
It's my way of starting a new week with something positive.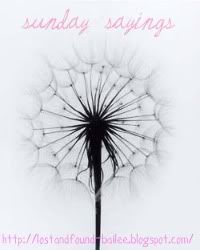 I hope all of you have a very happy Sunday! And a wonderful week!