Hey everyone!
Sunday Sayings link-up is back! Starting today, I am resuming this link-up party since the holidays are over and life has started to calm down a little bit.
Sunday Sayings can be anything inspirational.
Just a little something to start the week off on a positive and uplifting note.
a picture
a quote
a story
anything...
All I ask is that you place the button below somewhere in your post.
piece of cake, right?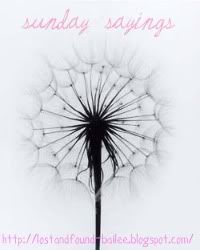 Time to get this link-up started!
This is a little piece of wisdom I have been telling myself a lot lately.
No matter how hard any of us fight it, we are not getting any younger- turning back time is not an option.
I am twenty-five.
I am coming to that time in my life where I can't just wait for things to happen- or put things off until tomorrow.
I have to live for today.
Or, before I know it i'll be fifty years old and full of regret.
I want to see the world and have a big family.
It's up to me to make these things happen.
The longer I wait, the shorter the time will be that I have for these things...
family, children and the world.
I only have one life.
Thankfully I've found the man I want to share the rest of my days with,
now, the rest is up to me.
I hope you all have a wonderful Sunday and week!
Can't wait to read what has been inspiring you lately!